About the BusinessNZ Energy Council
About
The BusinessNZ Energy Council (BEC) is a cross-section of leading energy-sector business, government and research organisations taking a leading role in creating a sustainable, equitable and secure energy future.
BEC represents the World Energy Council in New Zealand.
BEC is a brand of BusinessNZ, New Zealand's largest business advocacy body.
Together with its members, BEC is shaping the energy agenda for New Zealand and globally.
Advocating for a sustainable, affordable, and secure energy system
Here's how
Advocacy
BEC promotes policy which ensures a more secure, affordable, and sustainable energy system in New Zealand. We do this by working with our members across business, government, and academia – creating a systems view of how New Zealand can achieve a sustainable energy future.
Connection
We carry out events that educate and provide network opportunities for energy leaders across the entire sector – and beyond. Participants and members have the chance to connect and build close relationships, coming together to  create a clearer picture of New Zealand's interconnected and complex energy sector.
Influence through leadership
We maintain a close working relationship with business, government and academia to provide opportunities to connect, and ensure visibility of the energy issues that matter to New Zealanders.
Our quarterly Council meetings enable members to shape and influence New Zealand's energy agenda. We share the agenda and perspective when working with Government and wider policymakers. BEC strives to fulfil the role of leadership by presenting a whole-of-energy sector.
Vision
Sustainable energy for everyone, everywhere.
New Zealand has set a target to transition to a net-zero carbon economy by 2050. Moving toward a more sustainable energy system has become one of the greatest challenges of our time.
BEC is working toward an energy future for New Zealand that thrives in a net-zero world, which is not only sustainable, but secure and affordable too.
Striking this balance is a constant challenge, but for those willing to try will discover immense opportunity for innovation and new business models.
Join us and start shaping NZ's energy future
Join free events and meet other influencers in the energy sector
Come along to our quarterly council meeting and influence New Zealand's energy agenda
Get involved in analytical work that helps us to better understand the complexity of the energy system
Share what matters to you with other leaders including Ministers, Officials, CEOs, GMs and Researchers across New Zealand and the World
Work with us on whole-of-energy system view and present it to the government and others
Feature your ideas on how to contribute to a balanced energy system in our social media and other media opportunities
Be part of the Young Energy Professionals Network and Future Energy Leaders Programme to attract talent and upskill your workforce
Share insights with other leaders in the sector through or webinars, seminars, breakfasts with Ministers, political panels such as the Energy101, Great Debate and the Bigger Picture and newsletter.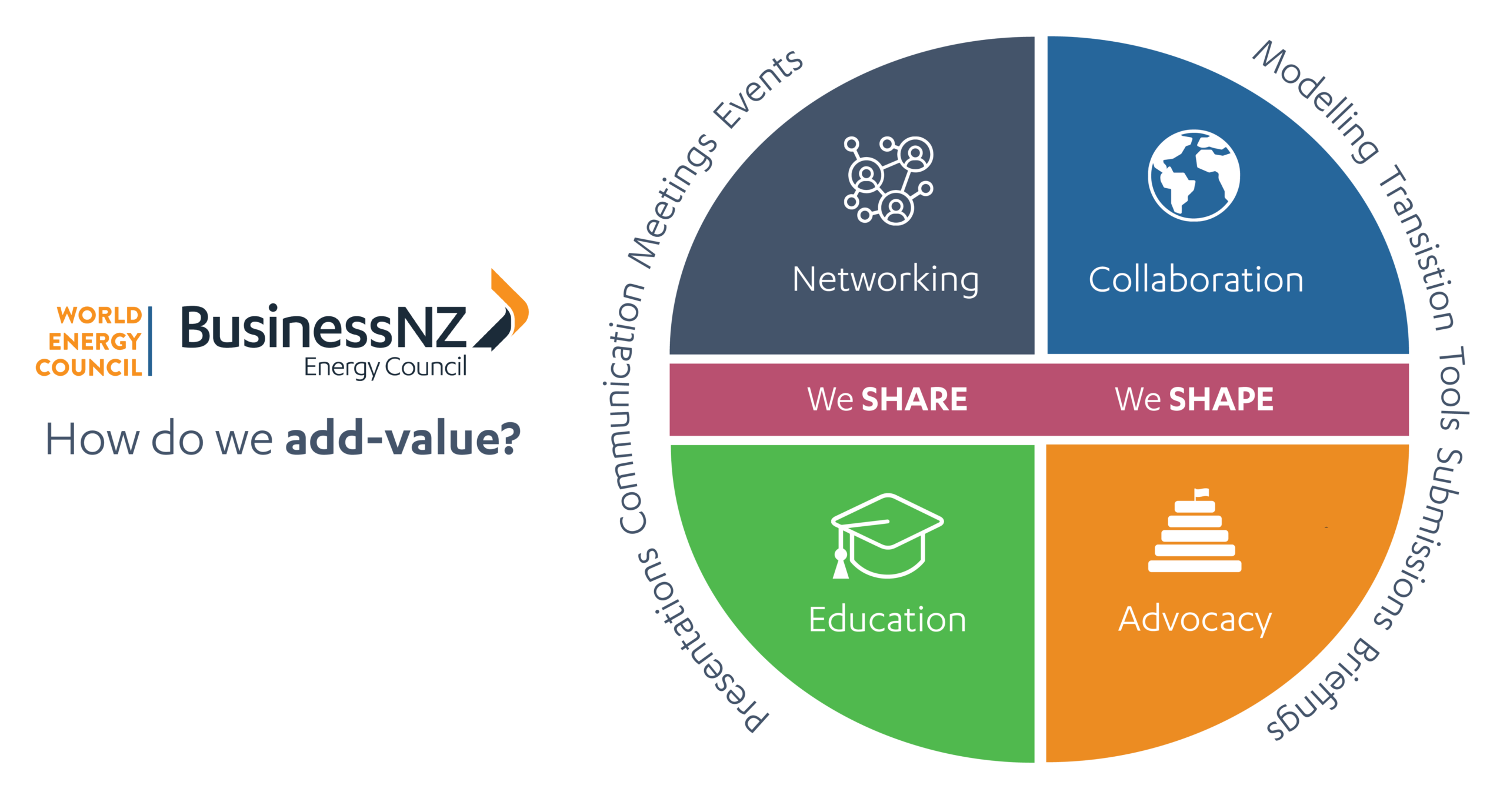 Take on the world together

Contact Us