The BusinessNZ Energy Council (BEC), New Zealand's World Energy Council member committee, has initiated the first country-level use of The World Energy Scenarios: Composing energy futures to 2050.
Rob Whitney, BEC Chair, has been involved with Council Scenarios projects for over 10 years, and was Chair of the Scenarios project launched at the Daegu Congress. With John Carnegie, BEC Secretary General, they identified the opportunity of using the global scenarios for a New Zealand project, and persuaded energy sector businesses and key government departments to support the project.
The 'BEC2050' project has been underway for over 9 months. It is developing two potential future pathways or scenarios for New Zealand that will help government and businesses plan for the possible changes over the next three decades.
The scenarios are being developed by around 40 leading energy sector companies, government departments and organisations, universities, research institutes and NGOs. Dr Stephen Batstone from a local consultancy, the Sapere Research Group is managing the project and David Campbell a Research Fellow has been appointed to work full time on it. The project has had great support from the Council team Zulandi, Tom, Sandra and Karl, and from Ged Davis the current Council Scenarios Chair.
"The BEC2050 project demonstrates a novel way to use the Council scenario work. To date, no other country has 'downscaled' the Council regional results to a country level, or undertaken a modelling exercise for a specific country that integrates back into Council global modelling. This has been an exciting challenge for BEC, greatly assisted by the Council project partners the Paul Scherrer Institute ('PSI'), based in Switzerland, and the expertise of numerous Council people. We hope that the project will demonstrate how this approach can be applied to other countries around the world.
"Similar to the Council scenarios, the BEC is aiming to help decision-makers take long term decisions based on sound analysis and a good understanding of the future variables. Policymakers and energy leaders will be able to use the scenarios to test their ideas about New Zealand's future energy mix, and make more informed decisions", said Rob Whitney.
The BEC2050 scenarios – 'Kayak' and 'Waka ' – will broadly follow the market-driven versus government co-ordinated framing of the Council 'Jazz' and 'Symphony' scenarios published in 2013, but will be distinctively Kiwi and look at how the New Zealand landscape will develop differently under the global scenarios.
Three workshops have been held to define the 19 critical uncertainties and provide the narrative backbone for New Zealand scenario stories. Christoph Frei launched the first workshop via a video link.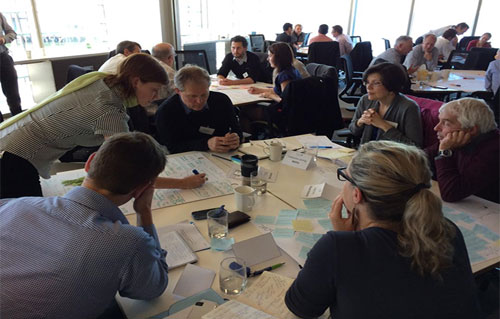 Workshop Participants Discussing the Critical Uncertainties
Quantification of the two New Zealand scenarios will use the same Global Multi regional MARKAL (GMM) model used by Council in its global scenario work. The modelling is being carried out by PSI.
The key New Zealand metrics that will drive the modelling have been quantified using workshop outputs and expert input from sector specialists and PSI has already produced the results of the initial modelling run.
Initial modelling results suggests that New Zealand will increase its penetration of renewables to 90% and beyond in both scenarios. In our high carbon price Waka scenario, modelling suggests 97% can be reached by 2050; this begs the question of whether this is feasible from a technical or operating perspective, given our reliance on hydro. Again in the Waka scenario, there are a range of alternative transport fuels (electricity, hydrogen and natural gas) all present in the light fleet in 2050. The level and make-up of our energy sector emissions also vary between Kayak and Waka with emissions in Waka falling below 1990 levels by 2050. Emissions in the market-driven Kayak scenario continue to hover around existing levels.
Despite increases in population (31% and 22% in Kayak and Waka respectively) and real GDP (85% and 73%), initial results also suggest that demand for thermal energy (effectively space and water heating) in the residential and commercial sectors will not grow greatly, reflecting the efficiency uplift provided by technologies such as heat pumps. However, the results suggest that demand from other appliances, electronics and lighting will grow significantly, overtaking thermal demand by 2040. At first glance, this appears plausible, but we are discussing with PSI ways in which a stronger presence of technologies such as LED light bulbs can be modelled.
Along with other factors, such as electric vehicle battery costs, we are in the final stages of agreeing a second – and final – set of inputs with PSI, with a view to having final results available by the end of July 2015.
We are moving forward nicely with our stated project goals. Developing New Zealand's Kayak and Waka scenarios will allow us to look into the future. By looking at the alternative scenarios, we will be able to more clearly see the Trilemma trade-offs and the direction and manner in which New Zealand might choose to "paddle". A report on the completed scenarios which will be launched on 14 October will be presented at the next Executive Assembly.
A BEC2050 website which contains detailed information on the BEC2050 and will be a useful resource for the public to get informed on the project and its progress has been launched.