Earlier this month, the 24th World Energy Congress (WEC24) took place in Abu Dhabi with the theme "Energy for Prosperity".
The four-day interactive programme involved plenary sessions, panel discussions, debates and workshops, centred around the critical issues currently faced by the energy industry.
The event was attended by over 15,000 people, including over 4,000 delegates, 250 speakers, 70 ministers and 500 CEOs.
CNN held a panel discussion which included Transpower's Bennet Tucker, member of the Young Energy Professionals Network (YEPN), OPEC Secretary-General Mohammad Sanusi Barkindo and director of the Center on Global Energy Policy at Columbia University Jason Bordoff.
The event shed light on everything from the rise in interconnectivity to the crucial role new technologies like 5G will play in the energy system.
While it was commonly accepted that we are not on track to limit warming to 2 degrees, the outlook during the congress was one of realistic optimism and given the challenges ahead, it needs to be.
For the Young Energy Professionals Network, a key takeaway was that interconnectivity between sectors is getting stronger and to optimise outcomes for all, we need to think outside the box.
There is a need for greater coordination to "soften the silos and moats" across the energy supply chain and to help ensure policy outcomes are better aligned.
This was a key outcome of last year's Asia Pacific Energy Leaders' Summit and is now globally acknowledged. It is also a key outtake from this year's soon to be released BusinessNZ Energy Council energy scenarios (BEC2060).
That means cross-sector collaboration is crucial.
Multinational upstream companies are leading investments in green energy and utility companies.
This was seen recently with Shell's AUD $617 million takeover offer for ERM Power, Australia's second-largest energy retailer to businesses and industry.
Closer to home, Z Energy is leading the way in diversification. The company is front-footing climate issues rather than keeping its sights set on oil and gas.
These companies have a different risk-return profile to traditional utility companies which can be leveraged.
Traditionally, utility companies have been risk-averse, but they need to start thinking more innovatively.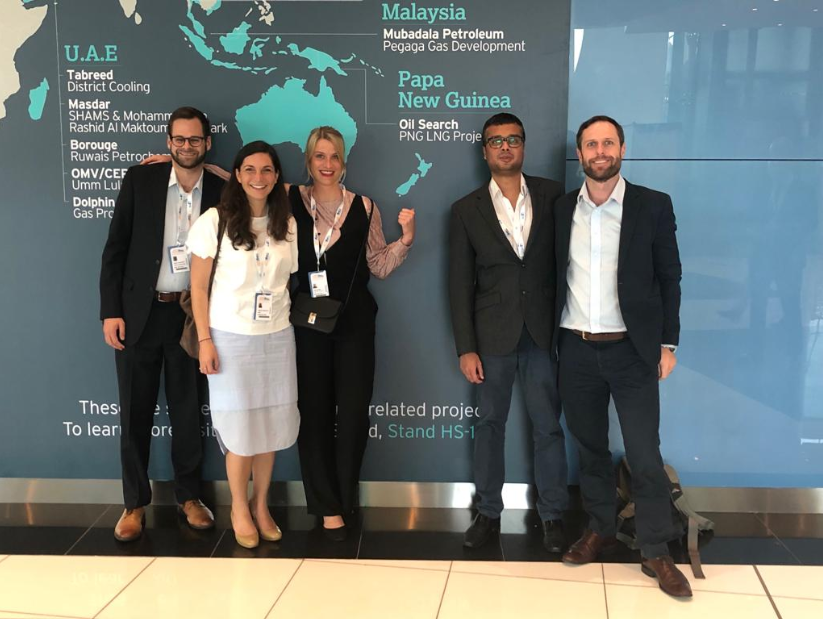 An energising experience: YEPN members pose for a photo at the conference. From left to right are chair Mark Todoroff, Amelia Rentzios, Tina Schirr, Buddhika Rajapakse, and Daniel Gnoth
Security is key
The conversation is now shifting from renewable energy cost competitiveness to renewable energy resilience.
In other words, renewables are now affordable, but the big question is how to make them secure when they are heavily reliant on natural changing weather patterns.
One big argument made at the congress was that a successful transition scenario must include natural gas as part of the energy mix, although a commitment is needed in this sector to have production decarbonisation goals to get to net-zero carbon.
Increasing public pressure on companies financing investments in the oil and gas sector indicates that an intelligent, public conversation on the energy mix is needed to educate and challenge blanket statements that support or overhaul single energy sources.
Globally, further investment in distribution and transmission networks is needed to secure a reliable energy supply.
A high-tech future
The event wasn't all doom and gloom. It did highlight the emergence of an exciting energy future driven by technological innovation.
The final takeaway for the YEPN was the huge role technological innovation and digitisation can play to decarbonise the energy system.
Digital technology such as the Internet of Things (IoT) in electricity and blockchain were discussed on most panels as they have the potential to disrupt and challenge existing industry players and infrastructure.
These technologies also allow consumers to become flexible participants in power generation and consumption. Battery storage is one technology that can assist but needs further development, regulatory and price mechanisms to support its implementation.
Carbon Capture and Storage (CCS) is being considered increasingly in regions reliant on coal for baseload generation. Artificial Intelligence (AI) can also help to optimise energy use and increase overall system efficiency.
An AI implementation strategy should consider early opportunities to add value as well as longer-term opportunities that might deliver major benefits.
The biggest challenge to widespread AI deployment seems to mostly lie in the knowledge of decision makers. Another big challenge is the lack of skills to implement AI and workforce resistance.
5G, which is set to arrive in New Zealand in December, was recognised as a fundamental infrastructure to enable the digital transformation of the energy industry.
As energy systems become more decentralised and energy supply becomes more volatile, supply will need to be matched with demand at an increasingly granular level requiring the need for greater levels of data sharing between people, devices and communities.
5G will also increase the capability for energy systems and technologies to be managed remotely, such as on offshore platforms.
Please find a link to the WEC24 debrief here.
This article was supplied by members of the Young Energy Professionals Network. For more information on the YEPN and to sign up for its newsletter, click here.