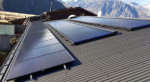 Sunshine Solar has worked closely with YHA New Zealand in recent years to help the accommodation provider achieve carboNZero certification.
The partnership has already resulted in carbon reduction across four hostels of about 81 tonnes of CO2 equivalent, with more savings identified.
Sunshine Solar has so far worked with YHA on projects at its hostels in Franz Josef, Auckland, Wellington, and Aoraki/Mt Cook, with more audits and system upgrades planned.
Much of the work focused on using emerging hot water heat pump technology and integrating it with a combined reticulated hot water solar system.
The partnership is seen as a best practice example underpinning a successful global initiative by Hostelling International to achieve carbon zero status.
Holistic approach
When YHA first sought tenders in mid-2015 for the installation of solar panels on its Franz Josef hostel, discussions with Sunshine Solar made it apparent that there was an opportunity for energy efficiency improvements across the national hostel network.
YHA runs 13 hostels across New Zealand, which accommodate more than 400,000 guest nights annually. An estimated 200,000 further guest nights are supported by privately-owned hostels operating under the YHA brand.
Sunshine Solar and YHA agreed to take a holistic approach to reducing carbon and gaining energy efficiencies. The initial project evolved from reducing carbon emissions to reducing energy load while at the same time making the hostels more comfortable for guests.
Three of the four hostels had gas water heating systems replaced with single pass hot water heat pumps. New Zealand firm Splash Monitoring was brought on board to provide online monitoring and tweaking of the systems.
The monitoring system was helpful in picking up the influence of a kea picking apart the roof sensors on the Franz Josef solar installation. Kea-proof cowlings have since been made and installed.
The initiative includes continual hostel audits, online monitoring and is subject to development via a centralised program provided by YHA's Property Team. Each hostel is audited annually by Sunshine Solar to monitor gains, losses and look for further improvements.
Further initiatives include installing electric vehicle chargers at remote hostels. So far chargers have been installed at YHA's hostels in Te Anau, Aoraki/Mt Cook and Franz Josef.
Spreading the message
YHA now views the developments of renewable energy use and improved energy efficiency as a business as usual activity.
The organisation's sustainability approach is well communicated with its travellers, encouraging them to engage with and follow its low carbon values.
For hostels with a solar installation in place – Mt Cook/Aoraki, Franz Josef and Wellington – there are real-time displays detailing energy consumption in the hostels and explaining how the systems work.
YHA can also use the real-time monitoring to see exactly how power is being used at each hostel, which helps in justifying further investment in carbon reducing initiatives.
Sunshine Solar uses data from the installations to show consultants the effectiveness of the systems, proving that there is an economically-viable alternative to using gas water heating.
The system design and its continual development has allowed Sunshine Solar to replicate the model to use for other organisations outside YHA.
The Low Carbon Future Award is sponsored by the BusinessNZ Energy Council
Kate Barker, Energy News