Joshua Riddiford – Mon, 04 Mar 2019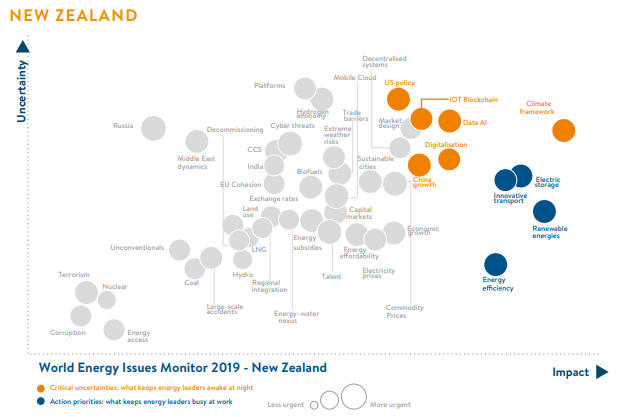 The Government's climate change policy is a major source of uncertainty for the country's energy sector executives, according to a recent survey.
Climate framework moved from medium to high uncertainty in a survey of local executives for the New Zealand chapter of this year's World Energy Issues Monitor.
Uncertain global settings and the lack of a local framework to support the Labour-led Government's greater environmental ambitions for New Zealand are driving that shift, the report's authors say.
The Government is drafting a Zero Carbon Bill to inform how emissions can be removed from the economy by 2050. Work is also underway on how to deliver entirely renewable electricity generation – in a year of average hydrology – by 2035.
A strong climate change agenda gives executives confidence to act but has thrown up implementation questions, the authors say. "While the clarity around direction is welcomed, energy executives are increasingly asking 'how do we get there?' – a question which to date remains unanswered."
The energy issues monitor typically attracts between 80 and 100 responses from executives and senior managers working in New Zealand's energy sector. The responses were collected and compiled by the BusinessNZ Energy Council .
Other key uncertainties for executives include the role for hydrogen in a low emissions economy and the potential impact of global trade tensions.
Hydrogen
Hydrogen moved swiftly towards the high impact, high uncertainty zone in this year's survey. That reflects executive concern about how to extend the country's "renewable advantage" to the heavy vehicle sector and the production of green liquids, the authors say.
The fuel's role in supporting an entirely renewable electricity grid – potentially by helping to solve the country's dry-year risk problem – has repeatedly been touted.
"However, today, hydrogen produced from renewable energy is about six times more expensive than hydrogen produced from natural gas, causing energy leaders headaches," the authors note.
Executives' increased interest in hydrogen may also reflect the Government's eagerness to pursue options for the fuel.
That is especially since the decision to end offshore oil and gas exploration signalled a reduced future role for gas. Arup is set to deliver a report outling the country's hydrogen strategy in April and provincial growth fund support was provided last year to Taranaki start-up Hiringa Energy.
That firm – led by former Todd Energy executive Andrew Clennett – is looking to leverage $950,000 of funding in a partnership with trucking firm TIL Logistics to pilot hydrogen-fuelled vehicles.
Separately, Auckland City Council-owned Ports Of Auckland is seeking a contractor to help it build a hydrogen production and vehicle re-fuelling facility.
The Government does not appear to have been dissuaded about the fuel's merits despite a recent study finding few commercially viable low emissions applications for hydrogen.
Trade tensions
The risk of a trade war weighs heavily on the minds of New Zealand's energy executives.
"As the US and China face off, with strongly nationalistic policy settings from the US and the perception that China's economy is slowing, the risk of a domestic economic slowdown increases," the issues monitor authors say.
US policy and China have each moved closer to the realm of high impact and high uncertainty for sector executives.
The emergence of those geopolitical concerns reflects New Zealand's trade-dominated economy and the end of a period of relative stability in world trade, the authors say.