Natural gas will complement the rise of hydrogen and biofuels in global decarbonisation, particularly as carbon capture utilisation and storage becomes more widespread, BP says.
The oil and gas company expects gas with CCUS to account for between 8 and 10 per cent of primary energy use worldwide by 2050.
This will be more or less split evenly between direct energy use and blue hydrogen production under BP's net-zero scenario. Its rapid decarbonisation outlook puts this at 75 per cent for direct use and the rest for blue hydrogen.
"This underlines the strong role that natural gas has to play when combined with CCUS as a source of near-zero carbon energy as the world increasingly decarbonises," says BP chief US economist and head of oil analysis Michael Cohen.
"[Gas] plays an important role in the next five to 10 years especially, but it's important to understand that new pipelines and new infrastructure need to be able to be used for hydrogen as well."
Outlook 2050
Cohen presented BP's energy outlook to 2050 this morning at an online event hosted by the Business Energy Council.
He outlined three scenarios: net-zero by 2050, rapid decarbonisation, and business as usual.
"We expect that roughly half the system would be electrified in the net zero world compared to today where we have about 20 per cent," says Cohen.
"If you've electrified half of the world, what else can complement it? We expect that hydrogen and bioenergy will play important roles."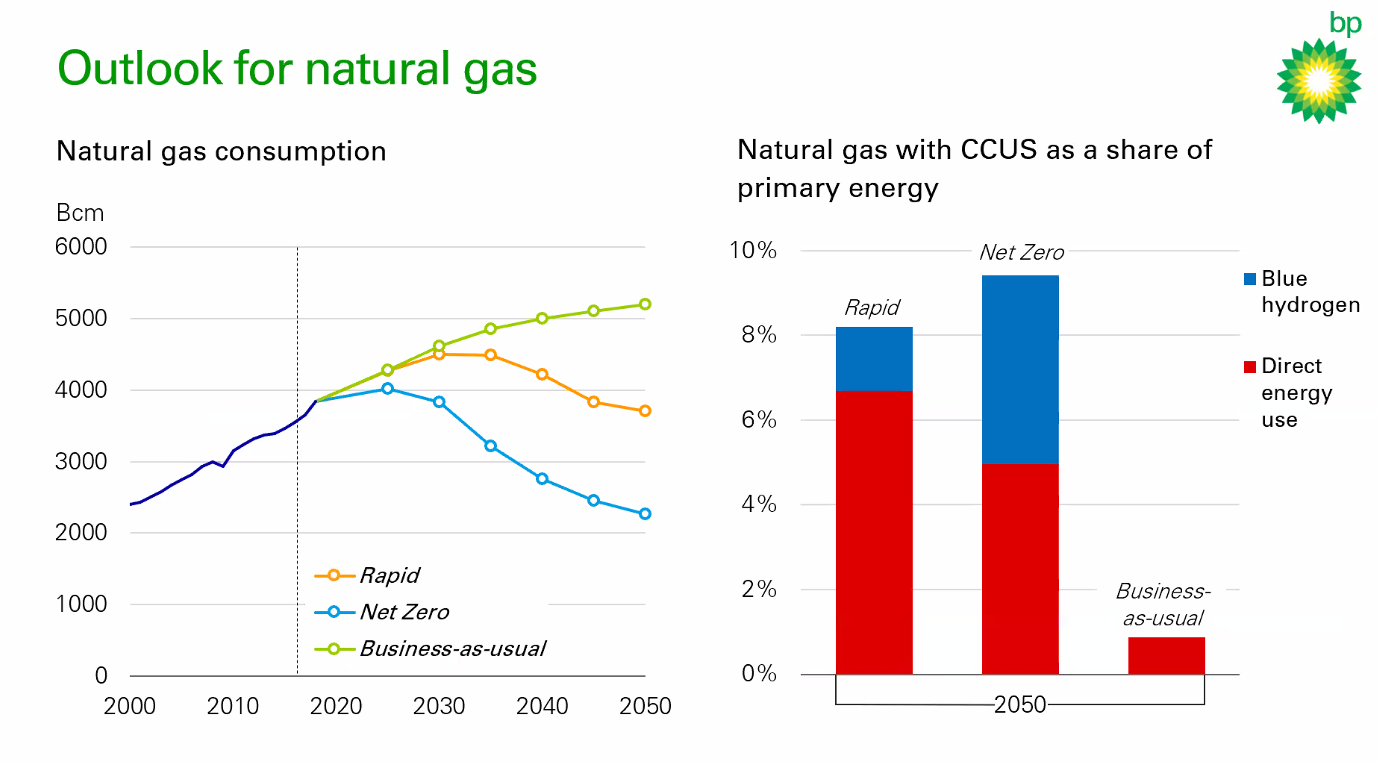 Cohen says a commonality in all scenarios is the energy mix becoming far more diverse, driven more by customer choice rather than the availability of fuels.
"By and large the biggest pathway, or the most viable pathway, from a cost perspective in our modelling comes from changes in the energy mix. Most of that is happening in the transport sector and as well in the power sector.
"Amid all of that heightened competition, you're going to be increasing the bargaining power of consumers with the economic rents shifting away from traditional upstream producers."
New wind and solar investment will likely peak around 2035 as intermittency costs increase, continuing to rise at a slower pace from then. This leads to excess capacity by 2040 to 2050, where green hydrogen could conceivably play a role.
Hydrogen and biofuels
Intersecting with gas is the rise of hydrogen for transport fuel and injection into gas streams.
BP estimates hydrogen will account for between 4 to 12 per cent of final energy for the net-zero and rapid scenarios, respectively – split more or less evenly between blue and green hydrogen in both scenarios.
"This is a smaller level than what the commentary has been about the role that hydrogen could play, but it's still a significant amount," says Cohen.
Hydrogen is better suited for long distance and heavy-duty transport. Cohen expects it will have a bigger impact in displacing oil in marine and long distance transport.
A growing need for integration across different sources and carriers and increasing electrification will lift up hydrogen – a trend that will also increase the use of bioenergy in transport, industrial uses, and electricity production.
Bioenergy will supply roughly 5 to 18 per cent, or median of 10 per cent, of primary energy supply by 2050.
The majority is biomass in the power sector, with increasing biofuels and bio methane for transport and aviation.
Contact: Eamon Rood – Energy News