The sixth annual New Zealand Energy Issues Map below shows energy executives grappling with the potential of hydrogen fuel, along with economic issues including New Zealand's emerging climate framework. The issues map identifies hydrogen as one of this year's fastest-moving energy issues.
The 2019 New Zealand Energy Issues Map is part of the annual World Energy Issues Monitor which helps bring transparency to the rapidly evolving, complex and uncertain environment in which energy leaders operate.
"Hydrogen is a hot issue in 2019 for New Zealand's energy leaders. This is very different to the combined world view. The Ministry of Business, Innovation and Employment recently engaged ARUP, a member of the BusinessNZ Energy Council (BEC) to help deliver a hydrogen strategy for New Zealand," said Hon David Caygill, Chair of the BEC.
"New Zealand energy executives seem to have gained more confidence around innovation. Last year's map showed some tension over issues such as cyber threats, blockchain and the internet of things. That tension has lessened this year and energy leaders are now exploring how these technologies might benefit their businesses and customers.
"In 2019 uncertainty is being expressed about economic issues including New Zealand's emerging climate framework. The Government's strong climate change agenda, while giving energy executives growing confidence to act, is also throwing up uncertainty about implementation.
"Among the top 'boiling up' energy issues are geopolitical signals from the US and China that are causing concern among executives in New Zealand's trade-dependent economy.
"Uncertainty is one reason the BEC develops energy scenarios. Scenarios help us think about the risks and opportunities different futures might hold and allow us to make better informed, more robust decisions," Mr Caygill said.
2019 World Energy Issues Monitor
2019 New Zealand Energy Issues Maps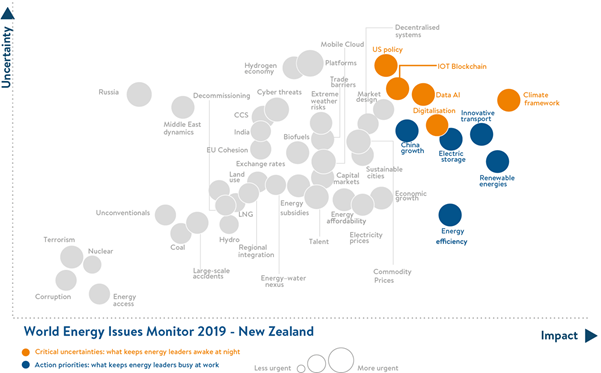 How to read the Issues Monitor: The responses are translated into issue monitors with the three assessed dimensions: the impact of an issue on the energy sector – this forms the x axis; the degree of uncertainty related to its impact – this forms y axis; the urgency with which we need to address the specific issue – represented by the proportional size of the issue bubble where a larger size corresponds to a higher degree of urgency.
Critical uncertainties: Issues with high uncertainty and high impact (in the top-right quadrant) are the 'critical uncertainties' with no clear path of action which keep energy leaders most awake at night. These issues need to be part of the energy leaders' dialogue and scenario analysis.
Action priorities: The issues in the high-impact and low-uncertainty space are those which keep energy leaders most busy (bottom-right, 'action issues').